Delta Meet 2007
Sacramento River
Steamboat Regatta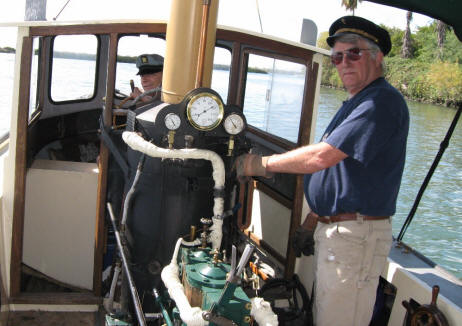 Steamboat Meet Newsletter
by Phillis Blaine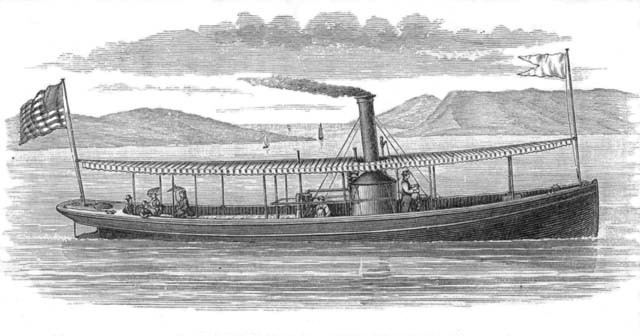 Captains & crew please mark the calendar for the 33rd. Sacramento Delta Steamboat Regatta to be held at B&W Resort, 964 Brannon Island Rd., Delta Loop, California (916-777-6161). The official dates are Sept. 28, 2007 to Sept. 30, 2007. Some arrive a day or two early and some stay late, time permitting.
This year will be much the same as last with boat rides, picnics, potlucks and visits with friends. The rumor is that a few new boats will be in attendance along with steam cars and possibly a steam tractor. Gas powered boats are always welcome, too!
Although the meet is late this year, the weather should be great with sunny days and cool nights. Last year the wind was quite strong on Friday and Saturday and the little boats rocked & rolled their way along the south fork of the Mokelumne River to attend the picnic cruise at Westgate Landing Park @ Terminous. This year the boats will start leaving the B&W docks on Saturday morning around 10:00 to make the approximately 1 hour cruise to Westgate Landing. The shaded picnic area has ample tables & lawn area to sit & enjoy our picnic lunches & drinks.
Saturday afternoon, upon returning to the dock area at B& W Resort, the much anticipated swap meet will be held. You never know what you'll find for sale or trade. If you have nothing to sell or buy, then grab a frosty ice cream or cool drink and visit with friends, old & new.
Saturday night the group has a pot luck dinner held on the levee road (between the upper cabins & the boat dock). Please bring your plate, silver, drinks and a favorite dish (or dishes) to share. Appetites are hardy & main dishes, salads, & deserts are always delicious. B&W provides the tables & benches. They request that we NOT remove the kitchen tables & chairs from the cabins. A short meeting will be held after dinner with the usual announcements and presentations.
Remember, the bug spray!! Those nasty mosquitoes sure do bite at dusk.
Night voyages on Georgiana Slough or the Mokelumne River are relaxing & fun so illuminate those running lights and fire up those engines for your (full moon this year) night run. Whistle & siren blowing is encouraged!
For some, Sunday morning is an unofficial trip down the channel for breakfast. The Lighthouse Resort serves brunch from 10:00 A.M. to 2:00 P.M. To my knowledge, Moore's Riverboat is NOT opened for breakfast but is open for lunch, dinner & cocktails from 11:30 A.M. to 10:00 P.M. on weekends. The Shoals at Pirates Lair Marina serves breakfast from 6:30 to 11:30 on Sunday.
Although not serving breakfast, the B&W Resort Store has prepared food and is well stocked with ice, soft drinks, beer, snacks, ice cream and sundries for sale. They also offer tractor assistance when launching and getting the boats back out of the water & back on their trailers. Our thanks to Joan, Jim, their children and the staff for hosting our group for the last 33 years!
As an added attraction from Sept. 26 to Sept. 30, 2007, the Military Vehicle Collectors of California will have a display at the Stockton Delta KOA located at Tower Park. If you want to take a lazy boat ride up the south fork of the Mokelumne River, you can see a great collection of vintage vehicles.
See you soon and let's make it a safe, fun & memorable occasion.
Regards, Jerry & Phyllis Blain
steamit@oldtimetech.com or 408-354-7128 with questions or suggestions.