1907 Stanley Model H
by Michael Clark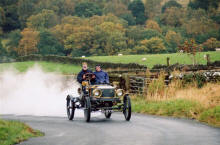 Date: October 2005
Here is my Model H making fog on an October Day. After about four season's intensive development work it's going really well with no involuntary stops, even for the pilot light, in the last 1000 miles.
Mike Clark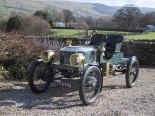 Subject: Picture of my Model H Stanley
Date: Tue, 30 Jul 2002 21:50:11 +0100
From: "Michael Clark"
To: <jw[at]stanleysteamers.com>


John,

Thanks for a great site - I really look forward to phorum each day!

Here is a picture of my Model H 1907 which has a "dry" 20hp engine. Restored by me with a lot of help from John Goold!
---

John,
What could be better - a Summer day, a country pub and a Stanley! Note the steam but ignore the burner smoke - they don't pollute - really. Picture by Jonathan Dayman
Mike Clark