Steamin' Down Under
By Mark Stacey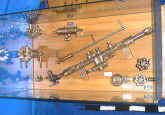 click to enlarge
Subject: Healesville photos
Date: Sat, 27 Jul 2002 13:00:44 +1200
From: Pav & Mark Stacey <pav@xtra.co.nz>
To: "'jw[at]stanleysteamers.com'" <jw[at]stanleysteamers.com>

Hi John

Ron and Roxanne had a great time not just due to down under
hospitality, it's also because they are really nice people. I'm biased
of course (Any couple who can teach a barmaid to make a phenomenally
good bloody Mary plus gave me two days worth of rides in their Stanley
have to be great)

I was a Healesville for the Steaming down under tour. Attached are a
few photos plus a picture of my car, a Chev 1951 conversion the
imfamous "Black Betty" plus the steam buggy a friend of mine owns.

Healesville Victoria Australia - March 8th to the 14th 2002


The jpg titled roadster
This Stanley 740 is owned by Ken Russell of Melbourne, the coupe body
with the rumble set was rebuilt to match the original body fitted when
the car was imported to Australia



The jpg titled Healesville Stanley over from the UK
A non condenser restoration finished one week before being shipped to
Victoria. Ran well for such an untried car apart from faulty tires
(poor bead to casing bond) It is a 1909 Stanley Model R owned by Basil
Craske UK whitw body yellow wheels



The jpg titled Healesville White F
The only White on the tour was this model F is owned by James McInnes
of Adelaide. James father found and restored the car.



The jpg titled Healesville Doble E11
Driven down from Lithgow in New South Wales a distance of 540 miles
Doble E11 is owned by Bill Lloyd and runs superbly



The jpg titled Healesville Stanley 735B (Error?)visiting from the USA
Ron and Roxanne Parolla brought their Stanley 740 from the USA for the
tour. Runs exceptionally well with a large 30 inch boiler.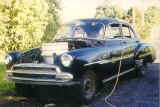 The jpg titled 51 chev steamer Auckland New Zealand
1951 Chev Sedan Delux converted over a 20 year period by Athol Jonas in
Auckland New Zealand. I acquired this car 10 years ago.
The system is based on Doble Model F layout. Monotube boiler, quartz
rod control, twin cylinder compound BLSP 60hp design (F style engine).
Home built with some Stanley, White and Doble parts. Nick name is
(Black Betty). NB Was not at Rally.



The jpg titled Steam Buggy Auckland New Zealand
A fun project owned by Paul Driscole Auckland New Zealand. Propane
fired monotube supplying an Athol Jonas twin cylinder single acting
engine converted from a refrigeration compressor with a slide valve.
Chassis is a narrowed BMC mini with a pipe frame and solid rear axle.

NOTE Jonas is the correct spelling.

Back to PageOne