-Tech Page-

<==== email John Woodson - jw[at]stanleysteamers.com
---
SteamCon I
I attended 'SteamCon I' [seems like an appropriate short name] on Friday and Saturday. It was presented by SACA and IAASP [International Association for the Advancement of Steam Power

, founder- Dennis Dudzik]

This is a very interesting group with enormous combined background, providing diverse experience and presentations.

The

Cyclone Power technology

developments seem to form the core of new optimism for transportable modern steam power. Harry Schoell CEO/inventor and Frankie Fruge COO are most friendly, accommodating, full of energy and enthusiasm.

Tom Kimmel, SACA President, displayed a large personal library of steam topic material for browsing, and he presented a slide show of

SACA

activities with many familiar names, faces and projects.

Bruce Hepler and Jim Tangeman brought their home-engineered steam traction engines, ...and a very fine Prescott steam buggy was also present on display.



-- Cyclone Power and Chuk Williams have recently split with both teams fielding attempts in pursuit of a Steam LSR car-- the following info is outdated but included for reference purposes --


Chuk Williams' Steam Land Speed Record car seems quite well planned with outstanding fit and finish, and it IS the star of the show. The Cyclone Mark 5 engine installation has found an excellent forum to demonstrate it's potential, with a huge audience awaiting performance trials of this debutante clean, green multifuel powerplant.

The Cyclone Mark 5 will be a crate engine designed for installation in a passenger car. It fills the space nicely, and makes the car look very promising, professional and complete. The final drive is via dual timing belts at 1:1 ratio overall. It has no transmission or clutch as the Cyclone engine will produce 850lb of self-starting torque. Engine rpm equals wheel rpm. 2500 rpm is required to exceed the existing Steam Land Speed Record of 148.308 mph set by the British Steam Car Challenge Team in 2009.

~Click photos to enlarge~
---
Rolly's EX Build Page - CAD Drawings - Photos
~ click photo for Rolly's EX Build ~
---
White Burner - Slitting Saw Setup
Photos by Bill
~ click photos to enlarge ~
---
Apple Cutout
John Buscher
December 29, 2005

John,

Here are my diagrams, wiring for 1917 Stanley and a sketch showing the terminal connections on the bottom of the 
Apple cutout relay. 

The pictures show the version of Apple cutout on my car - just to be sure we are all talking about the same model.

Best Regards,    John Buscher
---
Custom Engine Frame Rods
by Mike Clark
Hi John,

Here is a picture of the new frame rods I have made for my Stanley Model H engine as referred to on my Steam Gazette posts in the last few days. The engine is now finished and when I have tested it (just got to put it back in the car) I will post some more pictures.

Cheers Mike Clark




Click photo to enlarge
---
---
Air/Fuel mixer modifications
Rolly Evans made beautiful ones machined out of solid brass.
They're just little trumpet flares that reduce the entrance shock losses.
If you have room, the outer diameter should be at least twice the mixing tube diameter but not crucial. One member went to PEP BOYS and found suitable sizes in their exhaust or manifold section.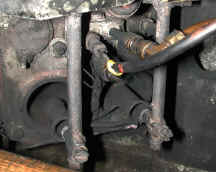 Dual venturi air amplifiers on Ron Parola's 735B
photo by Richard Vennerbeck
---

750B condensing car with rear floorboards
removed to reveal rear axle detail


Ottawa type burner test on low pressure with Maxwell type pilot misbehaving


Maxwell type pilot


Condensing car pump set
Chris Roberts

piping detail on a 30hp boiler


condensing car cylinder wrenches

Feed water heater
Channels Burner refit
30hp Boiler upgrade
Wrist pin bearing failure
Stanley Production Specifications 1901-1927

Wiring diagram ~ 735
Warner Speedometer drum - renew numbers
Condensing Stanley Piping Diagram